Attracting and retaining talent in the comms industry has never been easy. However, following a boom in movement earlier this year as economic optimism built, we're now witnessing a lull, with the number of active PR roles far outweighing the number of candidates available.
As an industry, we have a problem and it's imperative that we take a step back to understand what we should be doing – how do we attract talent within the PR industry, and retain it in today's world? What do we need to change?
Go beyond the benefits
A few years back, talent attraction was all about the benefits package on offer, with every company adding quirky benefits – from office ping pong tables to morning laughing yoga sessions – in an effort to not only attract the best team members but to also inspire, engage and motivate existing team members.
Trust and transparency
But, following 18 months of disruption as a result of the pandemic, it seems more and more people are increasingly interested in opportunities with organisations that place trust and transparency high up on the agenda – or at least this is what we're seeing anyway!
Competitive salary – no longer an accepted term
Over the past six months, almost every time I log in to LinkedIn, I see articles, posts and comments about how it's simply not good enough for companies to advertise jobs stating 'competitive salary' in the salary range. Candidates want to know before they apply that they'll be fairly rewarded for the work they do – and rightly so.
This sentiment was also echoed at a recent team day, which saw the whole team come together for the first time since the beginning of the pandemic. It was a fantastic day in which our goals for the year ahead were set out, we had guest speakers inspire us, we had team challenges build our teamwork, and we followed the day with a merry evening!
During the day, we discussed what it was that attracted everyone to the company and how we can build on this to continue bringing in and nurturing remarkable talent. Unsurprisingly, this point of transparency when it comes to paying was brought up.
This is why we're publishing our salary bands.
We listen to the industry, but more importantly, we listen to the people within our company. Talented people are at the heart of everything we do, and we wouldn't be the company we are today without the exceptional individuals that make up our team.
We benchmark against recruitment firm, Reuben Sinclair's average tech agency salary bands, ensuring what we offer actually is competitive against this, and above those averages.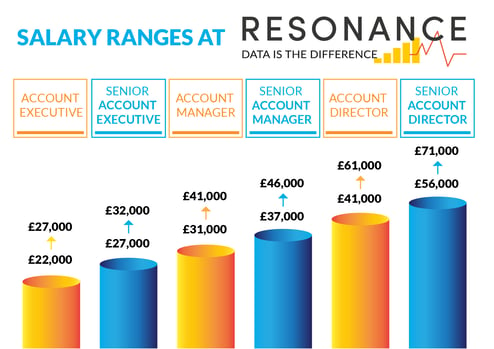 Alongside our competitive salaries, we also offer a wide range of benefits to help you build a career with us:
28 days annual leave, comprising of:

25 days holiday

2 company-wide holiday days

Birthday off

Flexible working

Half-yearly performance-based bonus

Monthly awards for both coverage of the month and star of the month – both winners receive £50 voucher of their choosing

The personalised

career development programme, comprising of:

£1,000 annual external training budget

Internal lunch and learns

Monthly coaching as part of the personal development plan

Bi-annual performance and salary review

Personal wellness fund

Pension contribution

Monthly socials

Quarterly team away days

Summer and Christmas party

Weekly group PT session, 'move with Milly' on Thursday lunchtimes
We're currently actively recruiting at all levels. If you're curious about technology and want to work for a business that places trust and transparency at the heart of everything it does, while focusing on your career development, I'd love to hear from you.
I'm passionate about building an intrapreneurial and exceptional team through focusing on development and creating a place where everyone loves to work. Come and join us on this journey!
Jessica Davis
Head of PR