It's our favourite time of the year – people are donning their glitziest dresses, 'Last Christmas' is playing endlessly on the office radio and the mulled wine is flowing. It's officially Christmas party season!
This year, at Resonance we celebrated in style as we headed out to City Social London. With some of the best panoramic views in all of London, Jason Atherton's Michelin star restaurant blew us away from the moment we entered.
First up was cocktails – and these were as dazzling visually as they were delicious. Highlights included The Freaking Grape, the creatively titled New Yolk, as well as the classic Espresso Martini. For the teetotallers amongst us, there was also a great range of options on the 'Socially Responsible' cocktail list!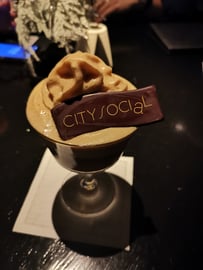 The festivities wouldn't have been complete without the traditional Christmas dinner. We enjoyed a three-course meal, with the main dishes ranging from truffle-bronzed turkey with all the trimmings, to rib-eye steak – all washed down with champagne, wine and more cocktails!
The atmosphere in City Social was perfect for a festive 'do – it was relaxed enough to enjoy conversation but upbeat enough to still have a really fun vibe.
After polishing off the delicious food, it was time for the champagne bar in Vertigo, Tower 42 – one of the highest bars in London. We got a bird's eye view of some famous attractions on the London skyline, think The Gherkin, the OXO Tower and the London Eye. We all enjoyed a glass or two of champagne, whilst taking in the sights.
We rounded everything off in the champagne bar with some fun festive games. After nabbing a pen and paper off a lovely waiter in the restaurant, we participated in a Resonance-edition of 'Guess Who?' Many laughs were had by all – and I think it's safe to say we all left having learnt a little more about each other!
Our Christmas-do definitely got us in the festive spirit! As someone who only joined Resonance two months ago, it was fantastic to spend time learning more about my fellow team members and to celebrate all our hard work. And it has been a year worthy of celebration: from securing incredible opportunities with Sky News and BBC Talking Business, to featuring CybSafe and its awesome CEO Oz Alashe on BBC One's Fake Britain. This year has showcased what can be achieved when you combine powerful data-storytelling with trailblazing clients and services.
That's a wrap for now from The Resonance Team – we've got some incredible plans in place for 2020 and we're extremely excited to see what new tech trends emerge in the coming year. In the meantime, we'd love to wish you a Merry Christmas and a tech-tastic New Year!