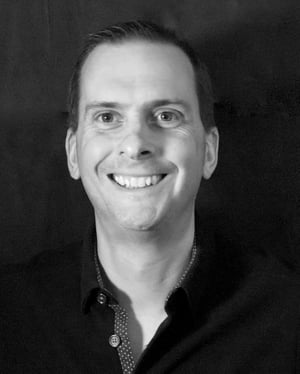 The new era in B2B selling has dawned. Accelerated, but not caused, by COVID-19, the nature of the relationship between buyer and seller has changed, for good.
Once upon a time, marketing departments created in-person events – experiential marketing, days for 'bonding', product launches, trade shows. Vast sums of money poured into the pockets of events companies, trade show organisers and stand-builders. He or she who had the brightest logo dangling 20 feet above the ground in the middle of a sea of lesser budgets was king or queen.
And people came to visit – exchanged their business cards for a branded stress-reliever or puzzle that would gather dust in the corporate-gift graveyard that is the second drawer down in their office desk. And some deals were done, but not many. But that was OK. Marketing would claim the ROMI (return on marketing investment) was in the invisible bit, the half of marketing that works, though no-one's quite sure what bit that is.
Ian Redfern, strategic adviser to now ai, an innovative ai-driven company that provides targeted and specific sales and marketing intelligence in the form of beautiful and impactful waterfall conversations, says "Trade shows are like the season recap on Netflix – they're for those who weren't paying attention first time around."
The event marketing spend of old, with its lack of defined return, suddenly became an unused budget line, with events cancelled and everything on hiatus.
The conundrum was panic inducing. How do we get our message across to our audience now? What are we going to do to go full-out online? Some businesses responded within hours. Others launched a COVID marketing campaign in May or June, leaving me wondering whether their marketing team was already furloughed before furlough even became a thing.
It became about digital channels. Online events. Webinars. Zoom. So much Zoom. A desperate clamber to connect with customers and prospects to bag a chunk of fake backgrounds and noises-off from the 'home un-schooled' children to stay in touch and keep selling.
But the issue was what to talk about? What was relevant to them and their businesses? How could the marketing team position the latest widget or dongle, service or 'solution' so that Brian or Brenda, the high-powered execs who, months earlier, had been smooth as silk in their offices, in command of their incredibly important roles, but who now you just knew were sitting there with PJ bottoms in front of a palm tree or fake boardroom, would cough-up and keep spending.
"Insight", the teams would say. "Insight tells us who they are and that they have an issue. Let's use this as a basis to open up a conversation with them and find out from them what they need and whether our dongle-service-solution could be made to fit."
But here's the thing, Insight is knowing that someone has a problem, which is a good start. But it's nowhere close to Intelligence, which is knowing someone has a problem and what you can do to fix it. The CIA is called the Central Intelligence Agency and not the Central Insight Agency for a reason. Because Intelligence is really having an understanding of who your customer is, what challenges they face, what their company is trying to achieve, in the context of their industry and against their competitors, AND it's about knowing how your widgets will deliver insane value.
What the advent of AI has brought about is the possibility to know a lot of stuff – to filter out the noise of too much data and information – and to contextualise the insight into relevant and targeted intelligence.
And so, while COVID brought about the acceleration of the demise of the bloated event budgets, the advent of new technologies means the budget can be repurposed, from hopeful branded giveaways at shiny, noisy, exhausting events, towards specific one-to-one interactions with decision makers in a systematic way that delivers a provable and massive 20-30 x ROI, for a fraction of the cost.
The chaotic buyer can now become informed, aided, and made the hero of the story, as the tinsel, unneeded landfill giveaways, whitepapers written without purpose and an audience in mind fade to black and white, while the new era of sales and marketing intelligence saturates to glorious technicolour in its place.
---
Ralph Varcoe is Managing Partner of Accelerate Performance, a business focused on enabling individuals, teams and companies to accelerate their personal and sales performance. He also works with Sales for Startups, providing Chief Revenue Officer services to tech B2B startups. He is a former Marketing and Sales leader, having led the sales and marketing efforts in a number of quality technology companies, including Virgin Media, Tata Communications, Orange Business Services and CenturyLink. He's written books about Accelerating Performance and writes, records and performs music in his spare time.