Influencer marketing is a critical component of a technology vendors' success. Recent research by Resonance found that IT decision makers are looking to external influencers as a trusted, credible source of information during their buying journeys. A vendors marketing needs to take this requirement seriously to deliver growth to the business.
But who are your influencers? Analysts and journalists are two well known (though perhaps not as well understood) groups of influencers. But the influencer map does not stop here. There are niche industry analysts, consultants, evangelists, academics and digital / social influencers in almost every technology. Overlook these individuals in your go-to-market plans and you could be missing out.
The biggest challenge with influencer relations has always been how to measure the impact. Impact not only on your organisation's sales, but on the market landscape as a whole. This makes it tricky to justify budget allocation to this area.
However, by formalising an influencer relations plan, based on business goals and with the right measurement and reviews baked in, it is possible to show organisational impact. You should be using more than anecdotal evidence but tracking via win/loss analysis and activity tracking within your CRM systems.
Using all influencers for sales, especially in an account-based approach
Account based marketing has been around for a while, but for high value, long sales cycle technologies, it is becoming the go-to programme. Sales teams need to be aware of the influence certain individuals / groups of individuals have on decision-making.
Today, there is an overload of information. Influencers are seen as an ally to help decision-makers sift through the mountains of whitepapers, articles, product sheets and find the most important insights.
Influencer management is strategic, it's not just about communications. You should integrate your influencers into your go-to-market activities, from content marketing, to PR, to field marketing and lead generation.
So how do you get going on an influencer relations strategy: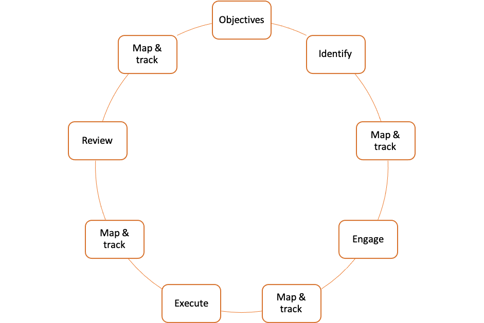 Goals: Start with your business goals, then review your marketing and product marketing goals. Start with why you might engage with influencers and bake in measurement.
Identify: Identify the influencers that are able to create the impact you want. This is a critical stage. You need to understand the network of influence an individual or organisation has. Critically, you should work with sales and customer success teams to ask your clients who they look to as influencers.
Map and track: Create your top list (budget dependent) and review periodically by tracking all influencers. There are tools such as BuzzSumo to help with this. You should track:

Their activity – what do they do for brands (are they in the media, do they speak at conferences, do they contribute content to whitepapers, guest blogs, are they active on social)
What opinions do they hold – do they resonate with your audience. This will give you an indication as to whether they will hold sway over buying decisions.

Engage: Approach the influencer and build a mutually beneficial programme. The programme needs to be authentic to the influencer's style and usual activity.
Execute: Work with the influencer to execute on the programme
Review: What has worked, what could be improved, iterate and go.
Throughout the lifecycle, you need to be consistently mapping and tracking
Influencers are not only an influential cog in IT buying decision-making. They can provide insights to help you shape your product roadmap, your positioning and your value prop.
You can read more in our blog here.