Research of 100 IT decision makers highlights what customers want from PR and AR
Customer attrition or "churn" can cause some companies serious issues. You fight hard to win those new contracts, only for the customer/client to leave. This leaves you having to replace that revenue and start all over again. Customer acquisition is costly and losing clients can damage reputation. On the flip side, retaining and growing your relationships with existing clients/customers is easier and gives you all the social credits you need for organic growth.
For those reasons alone, marketing needs to make retention a priority. Today.
Your current (and past) customers encourage (or discourage) future customers. You need to provide customer delight at every opportunity and one of the ways to do that is to make them feel good; let them know they have joined a solid community; keep delivering content that means something to them in this noisy world.
HubSpot's flywheel model is an interesting consideration when looking at this. It's not rocket science, as the more you delight, the more ambassadors you have, the more you attract and so it starts again.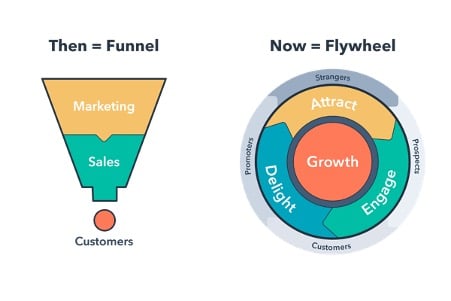 It should come as no surprise that retaining a client is cheaper than attracting a client. The Customer Acquisition Cost (CAC) is an important measure for vendors and investors alike and varies hugely, but in some cases, it can be 25 times more.
But what role does PR and AR play in keeping your clients and customers?
We recently asked 100 IT decision makers what they are looking for from the vendors they decide to do business with. What makes them happy to be working with a vendor or consultancy and what do they need to see to feel they made the right choice.
For marketing, the buyer journey does not – and should not - stop at winning the contract. In a world full of noise, IT decision makers are looking for partners and a community to lean on once they have made their purchase. The marketing does not stop and that is even more true in the pandemic world.
Reading about you in the news: Our research revealed that 76 per cent of IT decision makers think it's important to see you in the news. This third-party validation gives social credits and makes the client feel they made the right decision. It also helps validate their decision to their peers and stakeholders. Of course, they need to be reading about you for the right reasons. Despite Hemingway's massively over-quoted statement "there is no such thing as bad publicity" there really is. Reputation and crisis management is as much your PR team's job as it is getting great publicity.
Once your team has got that publicity, you need to get your account managers sharing it. Make it easy for them to share by providing email copy and social media copy. Promote it on your website and corporate social channels.
Reading about you in analyst reports: Analysts don't only carry weight throughout the buyer journey, often making recommendations or delivering insights. An ongoing AR programme will help you make it into the only important top right. You can read more on this here.
This third-party endorsement from analysts drives reputation among your client base and gives them valuable reassurance that they have made the right choice. Spending time getting into the waves, the quadrants, the matrices takes a lot of energy and resource, so do make sure you maximise it by getting it into the hands of your customers. Buying reprint rights also gives you high value content to share, earning you brownie points.
You can share these reports on your website via a landing page, send it on email and give your account managers the templates to do this easily. Promote it on social media.
However, there's another step in analyst reports that can engage your clients and customers, making them feel very special. You can put forward your clients to be part of the process, taking them on the journey with you and ticks the box of giving your clients and customers access to analyst conversations, another important expectation flagged in our research.
Analyst conversations: Analysts are considered oracles of knowledge. They are a trusted sounding board, a knowledge base to tap into, to learn from, to share insights. They help organisations and IT decision makers find answers to their deepest questions. Giving your clients and customers time with analysts is a huge value add for being in a partnership with you. Where you can, deliver on it.
Invitations to industry events: While this year, physical events are scarce, there are plenty of big events that have chosen a virtual format. We've worked closely with clients in the past to help them get speaker slots on the biggest and most influential event stages, from Retail Week Live to Big Data LDN. How we did it, was provide either a double-header between the vendor, service provider and their client or just given their client a platform for sharing their story. This has paid dividends in the client relationship and also drives interest and awareness among new logo prospects.
Peer learning - customer testimonials and case studies: Happy and informed customers are one of the best marketing investments you can make. Third-party endorsement helps credibility and reputation. We take advice from our peers. It builds trust. What does this give you:
Owned content: Your PR team knows how to tell a story around your client, their needs and how you helped them. This content can be used across owned channels, from email to social to the web.

Earned media: Your PR team can take that case study and create a story that media can get their teeth into. We often talk about customer case studies being like gold-dust. When you have the opportunity to use a customer in the media, make the most of it. Earned media adds further credibility, trust and reputation via third party endorsement. It builds the relationship with the customer and shows your community of customers that you are trusted by their peers.

Paid: If a customer isn't quite ready to make a leap to press interviews and coverage, you can work with your customers and the likes of

TechMarketView

to get analysts to write the case study for you. This provides your customer with valuable time with an analyst, it's not quite as unknown as media can seem and it gives you great content to share across your owned channels, once again building relations with that existing customer, but also showcasing the strength of your partnerships to your wider community of press.

Shared: Your PR team can help you create social content that your client shares, that your team shares and that gets attention across social channels, providing further social credit.
Useful information shared on a regular basis: This is the other thing your clients expect. By doing all of the above, you'll be creating content that really does deliver to this need. Just make sure you are thinking about how to really make the most of every opportunity. Ask yourself, how can I make it easier for the account managers to share content with their clients? How can I make clients feel special? What can I do in the media, on social, at events and with analysts that will really drive a deeper and more meaningful relationship?
If you'd like help bringing AR, PR and your customer success team together, get in touch hello@resonancecrowd.com